Weatherbeard- Beard Butter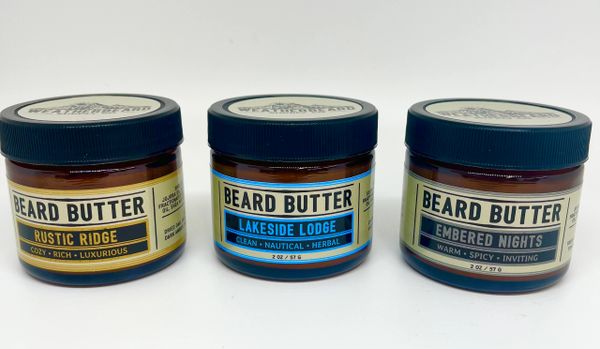 This Beard Butter not only nourishes your beard, but will sculpt and help you obtain that completely styled look.
Just melt the desired amount of butter between your palms and distribute throughout the beard until you've reached your desired look.
~Lakeside Lodge has a clean, nautical and herbal scent which includes Crushed sage, Salty Air, Driftwood, Earthy Vetiver, Juicy Citrus Fruits and Fresh Teakwood.
~Rustic Ridge is a luxurious, rich, but cozy scent that includes Dried Oak, Smooth Caramel, Sweet Hone, Dark Amber, Smoked Hickory, and Molasses
~Embered Nights has that inviting warm and spicy scents of Tobacco, Warm Vanilla, Earth Moss, Toasted Marshmallow along with Smoked Woods.
Ingredients Include: Shea Butter, Abyssinian Oil, Jojoba Oil, Hemp Seed Oil, Sunflower Oil Fractionated Coconut Oil, Meadowfoam See Oil, Shea Nut Oil,  Castor Oil and Fragrance