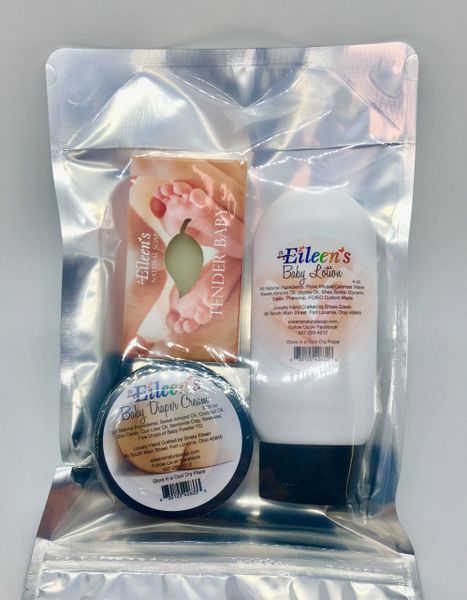 This baby gift pack is the ideal gift for a new baby or a baby-to-be shower gift! With three of our All-Natural products formulated for baby's sensitive skin, you will not be disappointed in this pack. The amazing smell of the soap will make your baby be the envy of all babies, the lotion will keep their skin soft and moisturized all year long, and the diaper cream will not only clear up diaper rash, but it's great for  heat rash in the summer or a rash from teething or drooling! Pamper your baby with these great All-Natural, chemical free products packaged in a sleek, silver zip bag!
Tender Baby Soap
Eileen's Baby Soap is awesome for babies' sensitive skin.  Cocoa Butter in combination with other oils is super gentle and safe. What about "tear free" stuff? Tear free items are made with synthetics and not of value to promoting healthy skin.  Babies have been washed with normal soap for generations - sometimes old is new.
Ingredients: Cocoa Butter, Coconut Oil, Palm Oil, Olive Oil, Castor Oil, Sunflower Oil, lye water, natural Fragrance Oil
Baby Lotion
Eileen's Baby Lotion – an all-natural barrier of protection for babies during their diaper years as well as when braving seasonal weather. The fragrance will capture your heart and be locked in your memories forever! Just ask your Mom and Grandmother.
 Diaper Cream
Formulated to help reduce and prevent the severity of diaper rash, Zinc Oxide and Fermented Cod Liver Oil starts to work immediately to alleviate redness and irritation. Can also be used for various rashes, such as heat rash, drool rash, and cradle cap!